Let us be your
technical support
and continued solution
You have made the decision to invest in the Apple ecosystem, so you should receive service and support from the people who know the technology best. iStore Business is South Africa's leading Corporate Apple Support company offering its business clients a variety of distinct set up and maintenance options. This includes Zero Touch Deployment through to SLA's, embedded support, skills transfer programs and remote support on an ad hoc basis.
iStore Business Technical team will assist and ensure your Apple devices are smoothly embedded into your organisation. Whether you need to optimise your existing Apple environment or are setting it up new we will assist to make the journey as seamless and quick as possible.
Deploy
We will focus on ensuring your company is set up for Zero Touch Deployment enabling the ability to ship devices to a user at any location and have them connected, secured, provisioned and productive in the shortest possible timeframe.
Manage
Manage your Apple Fleet the simple and easy way using Apple Business Manager and MDM services. We are here to help you set it all up correctly to ensure all end points can be managed remotely.
Support
Apple Devices have been proven to require less long-term support. For those times that you do require support the iStore Business Technical team has a variety of options for you.
Support Services
90 Day Free Tech Support:
Remote support for all new clients when you purchase an iPad, iPhone, or MacBook from iStore Business. Available during business hours.
This program includes:
General service desk escalations
Troubleshooting on anything Apple, including:
Printing
Backups
Accounts configurations
Software upgrades
Application installs and uninstalls
Compatibility testing
Integration planning
Deployment
Security CIS recommendations
Apple suite of applications
Apple Productivity including iCloud
Network Connectivity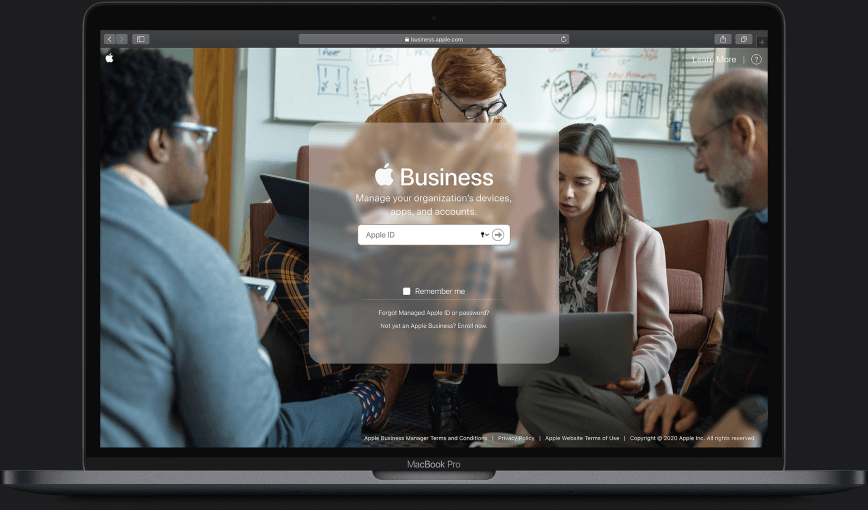 Technical Upskilling Program:
Companies that prefer to keep skills in-house can opt for one of our upskilling programs.
Technical Webinars – monthly webinars covering all things Apple o How to Guides – series of how to guides on key topics such as Apple Business Manager, MDM, Security and more.
Knowledge Based Articles – creation of Knowledge based articles as required by your business
Embedded upskill program – 1-6 month onsite engineer focused on upskilling your support or project team
Our Support SLA:
Ad hoc support on an hourly basis
Bundled Hours SLA support with agreed response times
Onsite Support* (Gauteng only)
Embedded Support for projects or long term
Contact us for all your support needs and one of our business experts will get in touch with you.
Our business team on your team
Deployment Services
Include:
Implementation and set up of Apple Business Manager
Investigation, implementation and set up of best MDM solution to meet company requirements
Identity provider configuration for service authentication (E.g., AD, Azure, Google etc)
Provisioning user profile and settings including endpoint restrictions and configurations
Set up of UAT (User acceptance testing) and upgrade path (New OS, Software updates etc)
Management Services
Include:
Ongoing device maintenance and profile management
Updates to production device configurations
Addition, updates, or removal application stacks
Upgrades to ID providers, services, and integration requirements
General MDM and endpoint maintenance for seamless productivity
Security – updating security configurations based on leading guidance documents from NIST, NASA, LANL, and SP
Security updates to end points
For more information on our deployment and management services contact us today
Whether you are looking to optimise or set up from new an Apple Readiness Assessment looks at all key areas to ensure Apple can be smoothly integrated into your existing infrastructure and support programs.
Technical Upskilling Program:
Application Gap Analysis – determine compatibility of existing applications.
Network Facilitation – Ensure network optimised for Apple Services, Accessibility, Security, Deployment and Support
Security Configuration – Enable Apple security stack to secure end point and integrate into existing end point security solutions
Performance Benchmarking – Set up and run benchmarking to determine productivity and performance gains vs existing fleet
Deployment and remote management – optimise or set up of Apple Business Manager, MDM solutions for zero touch deployment and ongoing remote management.
Companies can opt for a quick snapshot assessment or a full Apple Readiness solution that does a deep dive into each element with a report provided with recommendations on each key area.
Get your business Apple-ready with iStore Business,
contact us today
Contact us