Cinematic in every sense.
Buy now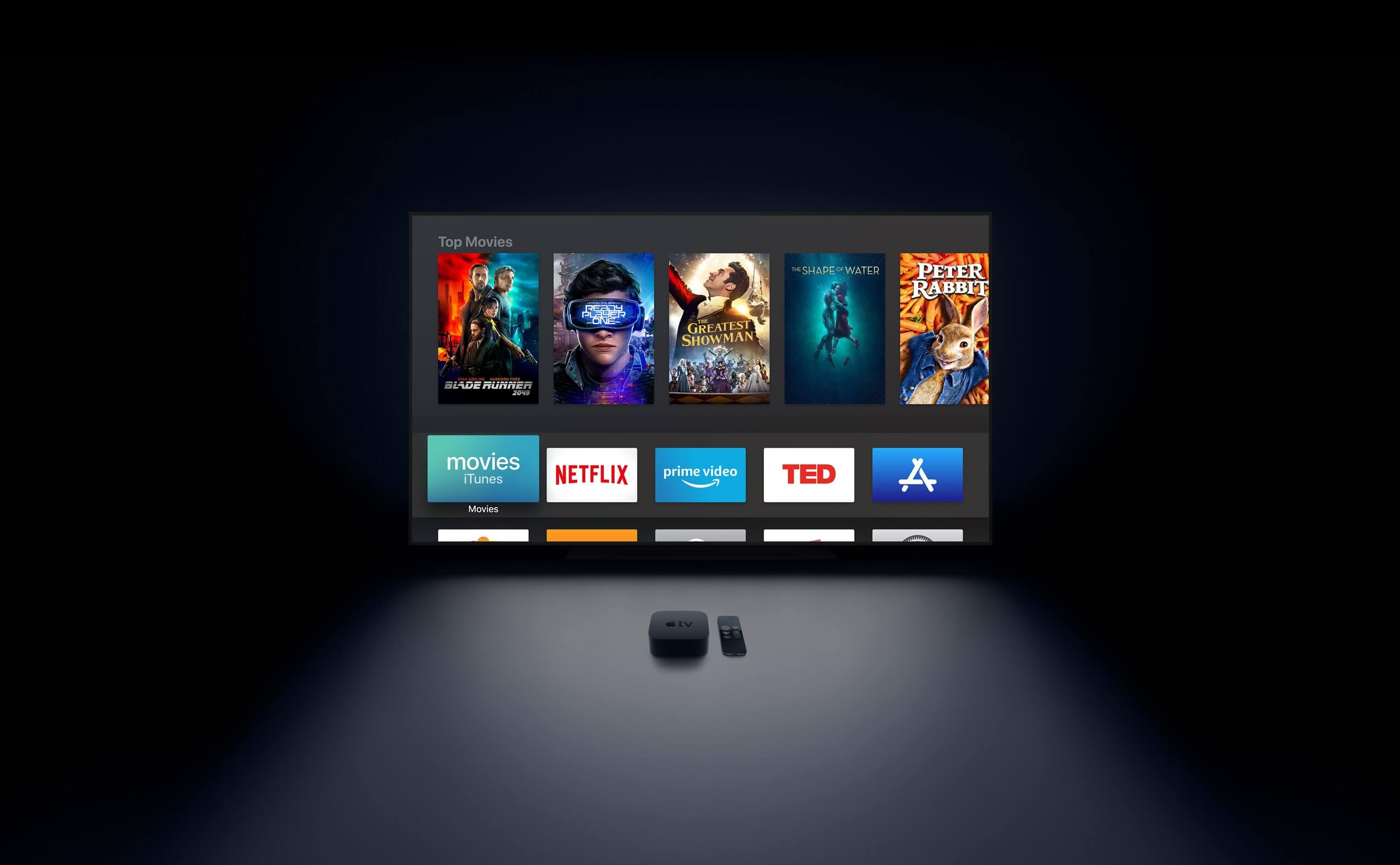 Apple TV 4K lets you watch films and TV programmes in amazing 4K HDR — and now it completes the picture with immersive sound from Dolby Atmos.¹ It streams your favourite channels live. And has great content from apps like Netflix, Amazon Prime Video, TED, MUBI and iTunes.²
4K HDR sets
a new standard.
4K gives you a crisper picture using four times more pixels than standard HD. High Dynamic Range (HDR) delivers brighter, more realistic colours and greater detail. From the hottest new film to your favourite TV programme, everything is more lifelike than ever.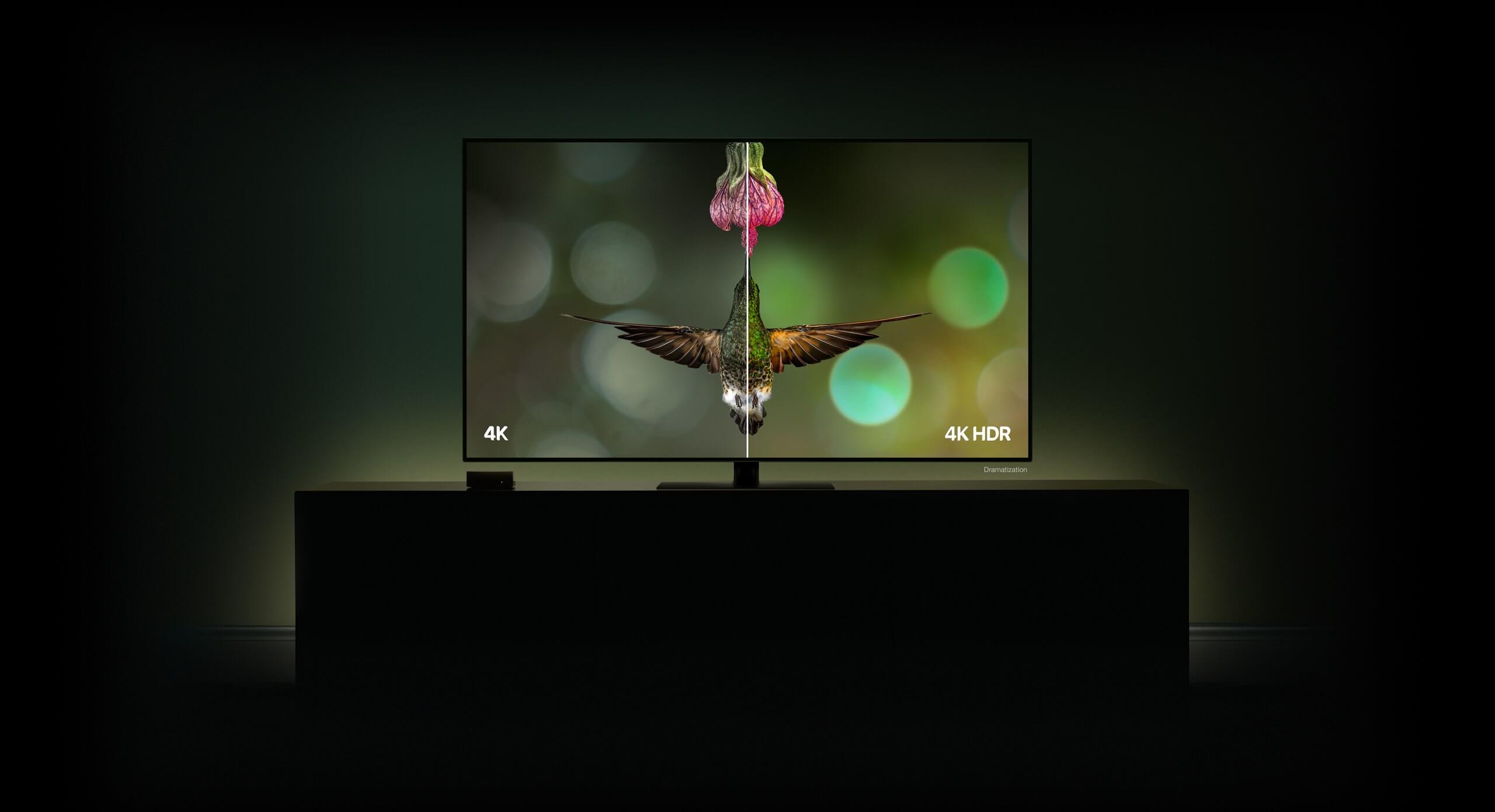 Apps. How do you watch television today.
Apps have liberated television, letting you choose precisely what and when you want to watch. Apps give you access to everything from blockbuster films and TV programmes to the weather and workouts you can do in your living room. There are also shows for kids, music events, podcasts and more.
Control your TV
with Touch.
The Apple TV Remote has a precise Touch surface, so you can use your thumb to quickly and accurately find what you want. You can also adjust the volume on your TV or A/V receiver. And thanks to Bluetooth, you don't have to point your remote at your TV. Apple TV picks up your commands from anywhere in the room.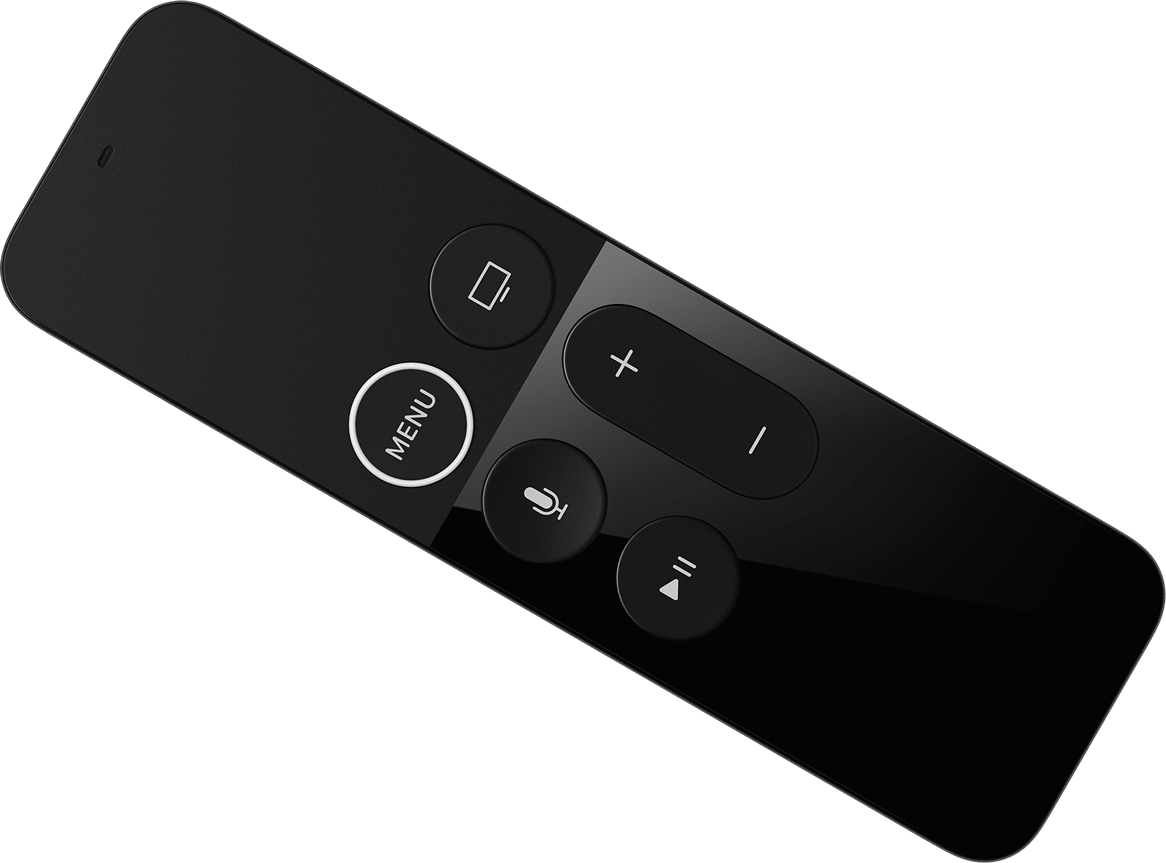 The App Store.
It's more than just
fun and games.
The App Store on Apple TV has something for everyone. Entertainment apps like Netflix, Amazon Prime Video, TED, MUBI and iTunes. Thousands of top sport, fitness and lifestyle apps. And, of course, your favourite games. The A10X Fusion chip provides a powerful platform to run every last one of them smoothly and beautifully. And when you add accessories like game controllers and headphones, you can take your experience to the next level.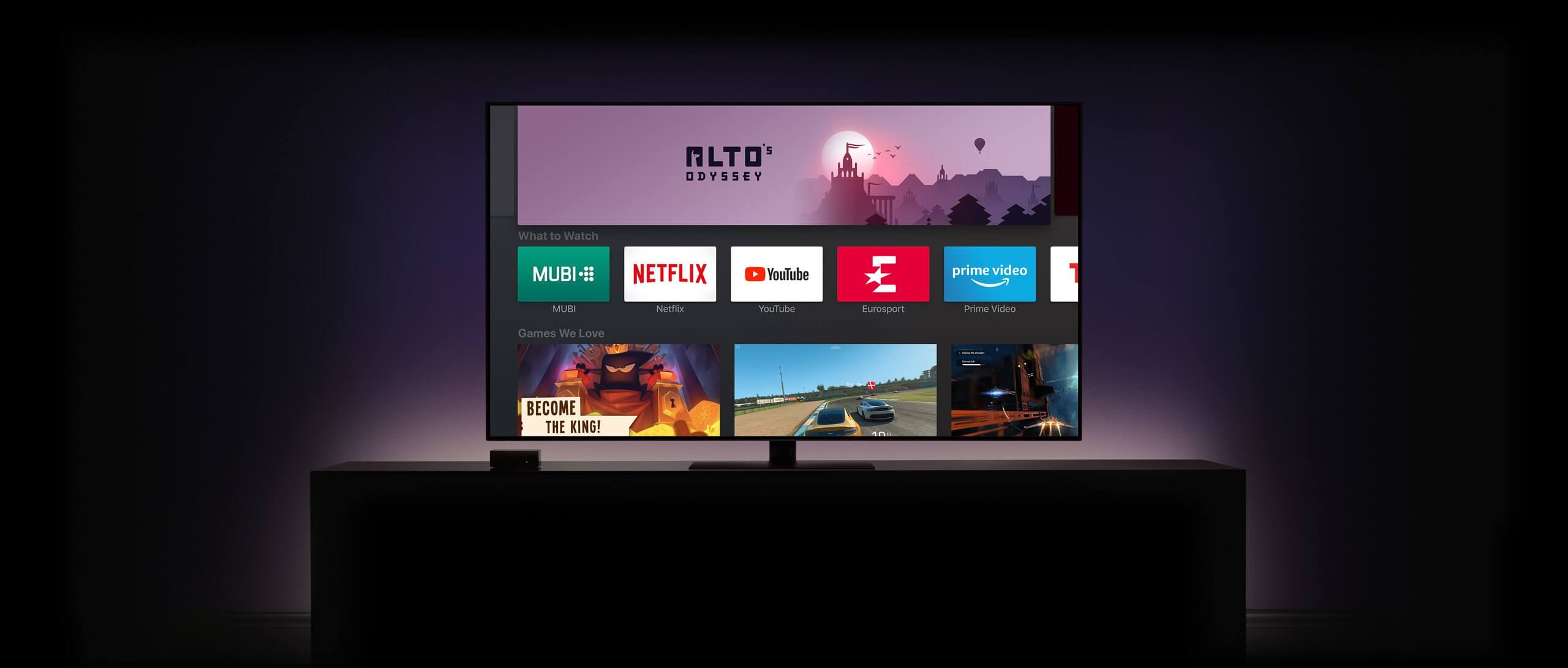 Your photos, videos
and music. It's all
on TV.
Make big things happen on the big screen. Enjoy photos and videos from your iCloud Photos library.³ And let your friends and family share their photos and videos with AirPlay. Memories automatically creates collections of your best photos and videos, and Apple TV lets you see them in 4K. If you create Live Photo loops or bounces on your iPhone, you can share those too. Apple Music also connects to your home cinema, giving you access to over 50 million songs — and music videos from the '80s and '90s to today's top artists — all on your Apple TV.⁴ So you can use it to power the party or just listen, watch and discover great music with family and friends.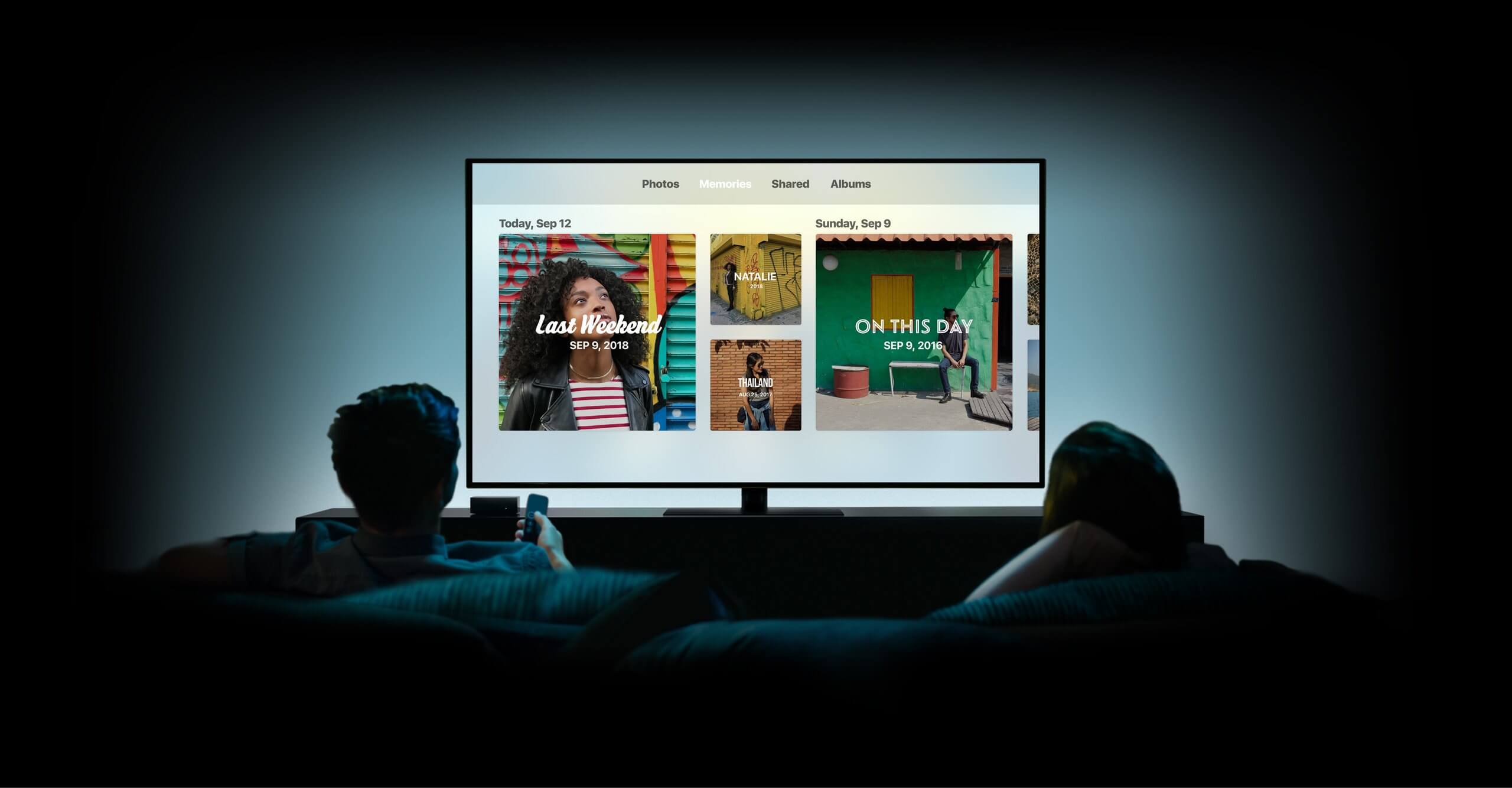 Let iPhone run the show.
Turn your iPhone into an Apple TV remote.
Once you connect Apple TV to your iPhone or iPad, the Apple TV Remote app is automatically installed in Control Centre on your iOS device.
Easily sign in with saved passwords.
Autofill your saved passwords securely from your iOS devices and effortlessly access all your must-see Apple TV apps.
Share photos, presentations, websites and more.
AirPlay is an easy way for you or your guests to wirelessly share whatever's on an iOS device in dramatic big-screen fashion.
Control your smart home through Apple TV.
Shut your garage door. Control your home's heating. Double-check the locks. Apple TV lets you use your iOS device to control HomeKit-enabled accessories remotelywith the Home app.
Find the Apple TV that's right for you.
Buy now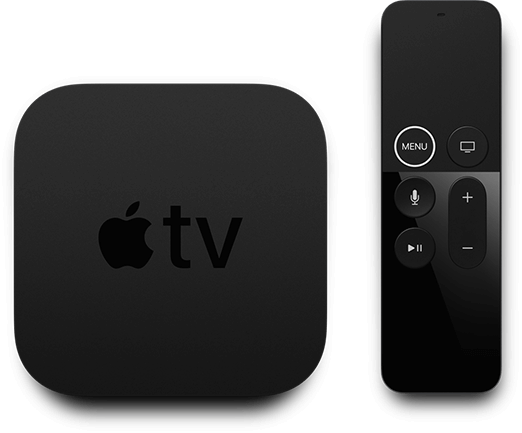 Any iPhone 6s or newer, iPad, iPod touch 7th generation, Apple TV, or Mac 2012 or newer, device* capable of running the latest version of iOS, iPadOS, tvOS, or macOS purchased after September 10, 2019, is eligible.
Not all content is available in 4K or 4K HDR. 4K resolution requires 4K-capable TV. Accessing Dolby Atmos features requires Dolby Atmos–capable devices. Playback quality will depend on hardware and Internet connection.
Subscription may be required to access some content. Live sport subject to blackouts. Title availability is subject to change. Some applications are not available in all areas. Application availability is subject to change.
iCloud requires an iCloud-enabled device. Some features require iOS 12 and macOS Mojave. Some features require a Wi-Fi connection. Some features are not available in all countries or regions. Access to some services is limited to 10 devices.
Apple Music requires a subscription.